DETAILED SPECIFICATIONS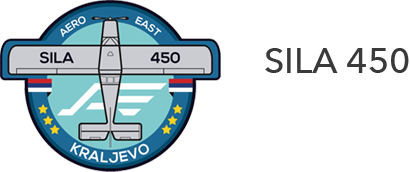 SILA 450 C in a few words: affordable metallic airplane, elegant, reliable, fast, stable, comfortable and good looking.
All these characteristics have been developed in a true JAR VLA aircraft of only 472.5Kg MTOW named SILA 450 C that indeed meets the German UL standards.
An all metallic high wing airplane produced under JAR standards as well as the other aircraft of the SILA series. The mascot of the series has already been certified in Germany in accordance with LTF-UL.
Aero-East-Europe offers performances, attractiveness, comfort and high standards of quality.
Every model in our production follows the JAR standards so that the same standards are adopted for the realization of any model no matter what will be the MTOW or in which category the aircraft will be registered.
Every aircraft produced by Aero-East-Europe doo is characterized by luxurious and fully sized proportions as well as extraordinary flying stability. Our airplanes also have an important value of range and endurance: flying means of course to cruise far away. Sila 450C is, above all, a long-range plane for comfortable cruising (ranges over 1000 Km) with a flight trim very stable (SILA 450C is very stable even in presence of turbulence).
The comfort, resulting from the great size of the cabin and complete absence of vibrations, enables safe and precise flight, which is not only a characteristic of the Sila 450C but also of every one of the aircraft produced by Aero-East-Europe. Regarding the long range cruising flights it is possible to load and stow luggage up to 50-75 Kgs in the designated space.
The STOL characteristics of SILA 450 C are however a must: Aero-East designing philosophy is based on a safe and pilot-friendly behavior. The drawing technical solutions allow a very low Vso resulting at least in a very short take off and landing run.
Aero-East-Europe produces and develops new aircraft according to JAR VLA part 21 & 23 standards. The investment in the development of the new SILA series (Serbian Industry of Light Aircraft) led to the lightest SILA 450C (MTOW 472.5Kg) studied for the UL market. With its elegant behavior in the air SILA 450C is stable and reliable under any weather condition. Its style of flight is precise and "pilot-friendly".
Sila 450C is a high-winged, single engine, two seated aircraft, with a semi-monocoque fuselage structure, made of approved aeronautical aluminum (6061 T6, 2017 T4, 2024T3). The wing airfoil is NACA 5417 and wings are rectangular with sweep a angle equal to zero. The twist angle is -2° from the wing root to the wing tip and dihedral angle is 0,5°. Wings are made of approved aeronautical aluminum and wing tips are of epoxy plastic or carbon fiber depending on the request. The Wings are connected to the top of the fuselage and supported by two struts one for each wing. Wings are the main lift surfaces which support the aircraft in flight. The tail surfaces are classically designed. Vertical tail has a rudder, the airfoil of the vertical tail is NACA 0010 and the vertical tail sweep angle is equal to 40°. The horizontal tail has an elevator with trim tab, the airfoil of the horizontal tail is NACA 0010 and the horizontal tail is rectangular with sweep angle equal to zero. Aircraft landing gear is non–retractable, tricycle with nose leg. Power plant consists of a four–stroke engine and tractor propeller with clockwise rotation. The engine mount is fabricated of tig welded chrome molybdenum steel 4130. The engine compartment is made of fireproof epoxy plastic. The flight controls are traditional, the most parts are made of chrome molybdenum steel 4130 with bronze bearing to reduce friction within the control system, aluminum and supplementary materials are certified for aeronautical use such as cables, bearings, nuts bolts. Flight controls are a combination of mechanical and automatic controls. Primary flight controls such as ailerons, elevator and rudder are mechanical, flaps and tabs are semi–automatic. Sila 450C is a two seated aircraft, where the seats are positioned side by side. Depending on configuration, seats can be adjustable (on request) or non–adjustable (standard). Safety harnesses (belts) for pilot and copilot are part of the basic equipment. Baggage compartment is positioned behind the pilot and copilot seat.
Basic equipment of Sila 450 "C" is next:
1. Airspeed indicator
2. Altimeter
3. Magnetic compass
4. Bank & Yaw indicator (ball)
5. Tachometer
6. Hourmeter
7. Fuel quanity indicator
8. Cylinder head temperature indicator
9. Oil pressure indicator
10. Oil temperature indicator
11. Pitot static system
12. Seat belts for each occupant (2 harnesses)
13. VHF Radio – dual watch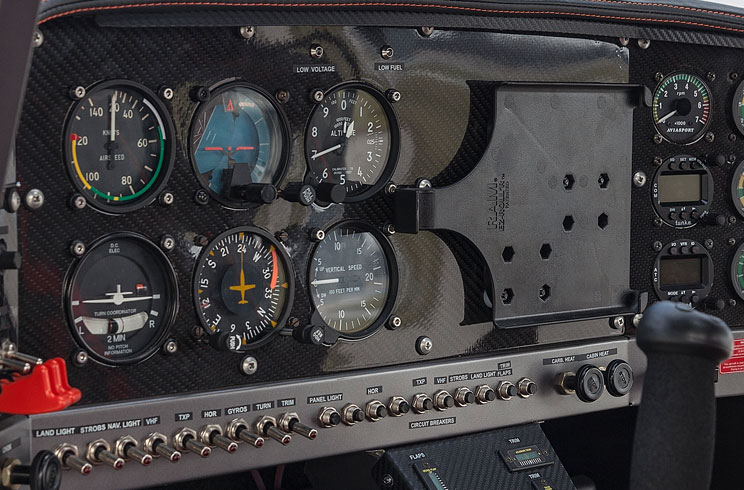 Materials used to manufacture Sila 450C are approved aeronautical materials with strictly controlled characteristics according to the factory procedures which are in compliance with JAR (EASA) Part 21.
CERTIFICATION
Certification basis for Sila 450C were primarily the German Airworthiness Requirements LTF – UL and then the Serbian Regulation for Ultra – Light Aircrafts. Sila 450C is fully in compliance with LTF – UL. Sila 450 "C" is already certified in Germany - Type Certificate Nr.: 61225, France Type Certificates Nr.: B203SF02616E – 1 & B203SF02617E – 1, Sweden Type Certificate Nr.: UL B – 71 and Italy - ul advanced category, Spain – in progress.
General
Type
SILA
Model
450 C
Manufacturer
AERO – EAST – EUROPE d.o.o.
Dimitrija Tucovica 2. L 4/5
36000 Kraljevo
Serbia

Characteristics
| | |
| --- | --- |
| Construction | Metallic – Aluminum, CrMo steel |
| Wing assembly | High wing airplane with struts |
| Tail assebly | Behind the wings |
| Empennage form | Cross – shaped form |
| Wing Profile - Airfoil | NACA 5417 |
| Landing gear | Tricycle |
| Seats | 2 Side by Side |
| Engine | Rotax 912/914 |
| Propeller | 2/3 Bl. Fix or Variable p.p. |
| Powerplant assembly | Tractor |
| Fuel Tanks Nr. 3 | 45+45+10Litres |
| Multifuel | 100LL avgas, automotive 94/95/98 |
| Average Fuel Consumption | 16lit/hr |
| Empty weight | 292,5Kg |
| MTOW | Meet the LTF-UL German Requirements of 472,5Kg |
Dimensions
| | |
| --- | --- |
| Wing span | 9,46m |
| Wing Chord | 1,27m |
| Wing area | 11,94m2 |
| Horizontal Tail | 0,75m x 2,9m |
| Length | 6,47m |
| Height | 2,40m |
| Cabin Height | 1,15m |
| Cabin Width | 1,15m |
| Baggage Comp. | 1,13m x 0,6m x 0,77m |
| Landing Gear Width | 1,80m |
Performances (Rotax 912 100Hp)
| | |
| --- | --- |
| Vne (never exceed speed) | 223Km/h |
| Max Speed(at max continuous power) | 205Km/h |
| Cruising Speed 75% | 185Km/h |
| Vs0 | 64Km/h |
| Maximum speed with deployed flaps | 106Km/h |
| Vs1 | 83Km/h |
| Va (maneuvering speed) | 165Km/h |
| Maximum speed in rough air | 183Km/h |
| Vc | 183-223Km/h |
| Vno | 83-183Km/h |
| Xss Wind Component | 28calculated - 45demostrated Km/h |
| Tail Wind Component | 15calculated – 28demonstrated Km/h |
| Rate of Climb | 5,6m/sec |
| Endurance/Range | 6Hrs/1080Km |
| Service Ceiling | 3.658m/12.000ft |
| Lift to Drag | 15 |
| Take off Run | 90m |
| Landing Run | 140m |
LOAD FACTORS
| | | |
| --- | --- | --- |
| MTOW | Cont. Load Factor | Ultimate Load Factor |
| 472,5Kg | +4 | +6 |
| 472,5Kg | -2 | -3 |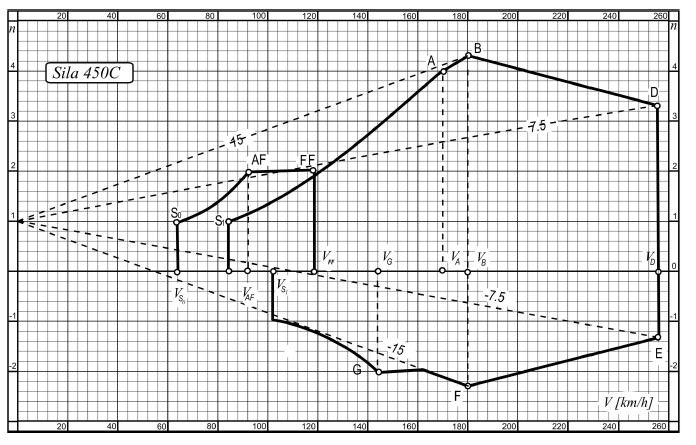 Gallery